GTPO-GCCA Cleantech Events 2015
Post By Taiwan Green Trade Project Office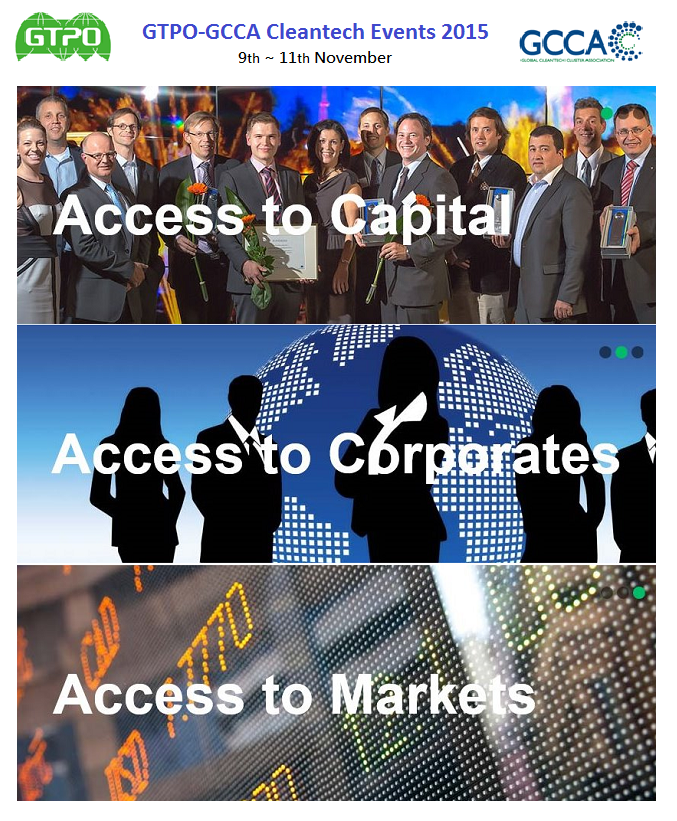 GTPO-GCCA Cleantech Events 2015 including Business Partnership and Investment Matchmaking, Later Stage Award Ceremony, and Cleantech Enterprise Assessment Workshop will be held in Taipei from 9th to 11th November 2015.
GCCA (Global Cleantech Cluster Association, www.globalcleantech.org ) is an international organization which promotes clean-tech issues in the regions of America, Europe, Africa and Asia Pacific. Since it founded in 2011, it has 50 cluster members representing more than 10,000 companies in this business network.
Every year global GCCA cluster members nominate 100+ potential clean-tech companies for GCCA Later Stage Award. GCCA's founding partner Keystone Compact Group assesses them and decide the final TOP 10. In addition to the nominated companies, there are other potential ones applying for the matchmaking events as well. Its partner P80 Group and other GCCA-associated investors make funding and post-investment management to those potential ones.
This is the first time that GCCA holds its annual clean-tech events in Taiwan. These serial events would help industrial companies, professional investment, economic and trade organizations to connect with large international related ones, and find out together the potential companies worthy of cooperating or being invested. In addition to be invested, counseling or cooperating with local or international organizations, the companies could also expand their global market through GCCA's huge business network. All event info could be found in the attached files or www.greentrade.org.tw
We warmly welcome cleantech-related industries, investment fields, and economic/trade organizations to participate in the events. We firmly believe that the events will be more successful and brilliant with your attention, support and participation. We are looking forward to meeting you in GTPO-GCCA Cleantech Events 2015 !
75 Chang Xing St., Da'an Dist., 10672, Taipei City, Taiwan